In mid-March I was asked to produce a new podcast series for The Telegraph, around a new initiative from the paper, Technology Intelligence.
Technology Intelligence is a major new journalism initiative from the Telegraph.

Our mission is to chronicle for our audience the technological revolution going on around us, and to campaign to harness it to ensure that Britain's society and economy are retooled for the challenges of a new, global era.

With a brand new team of reporters, writers and editors based in London and Silicon Valley, our aim is to establish the Telegraph as the leading UK publisher of technology journalism.
With rapid turn-around times and delivery deadlines, it's been challenging and yet hugely rewarding. In the last couple weeks I've spent much of my time researching sectors which are being disrupted by technological innovations, contacting contributors across business and academia, and together with the presenter Harry de Quetteville, interviewing this contributors and shaping these conversations into a 30-35 minute podcast.
It also involved doing field recordings across various locations across London: getting cash out at Victoria Station, on the underground, in a coffee shop and out on the street by Silicon Roundabout. Although I must have looked odd with a shotgun mic pointed at a cup of tea, it was fun to do.
It's a 6-part series, with episodes dropping every 2 weeks through until the beginning of June, which will keep me busy until then. Episode 2, focusing on 'the future of transport' drops on Friday 6th April.
Here's the Telegraph article page:
And here's the podcast's 
RSS
 feed:
Or the iTunes page if you'd prefer: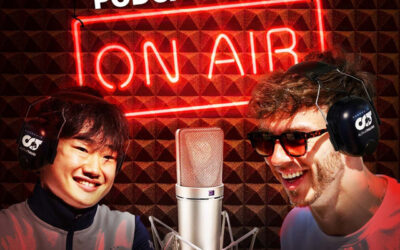 In August we were approached by Red Bull to consult on a recently launch podcast for the Scuderia Alpha Tauri Formula 1 team, formerly Toro Rosso. With a considerable audience under 25, through liaising with Alpha Tauri admin and host Josh Kruse, we distilled the...