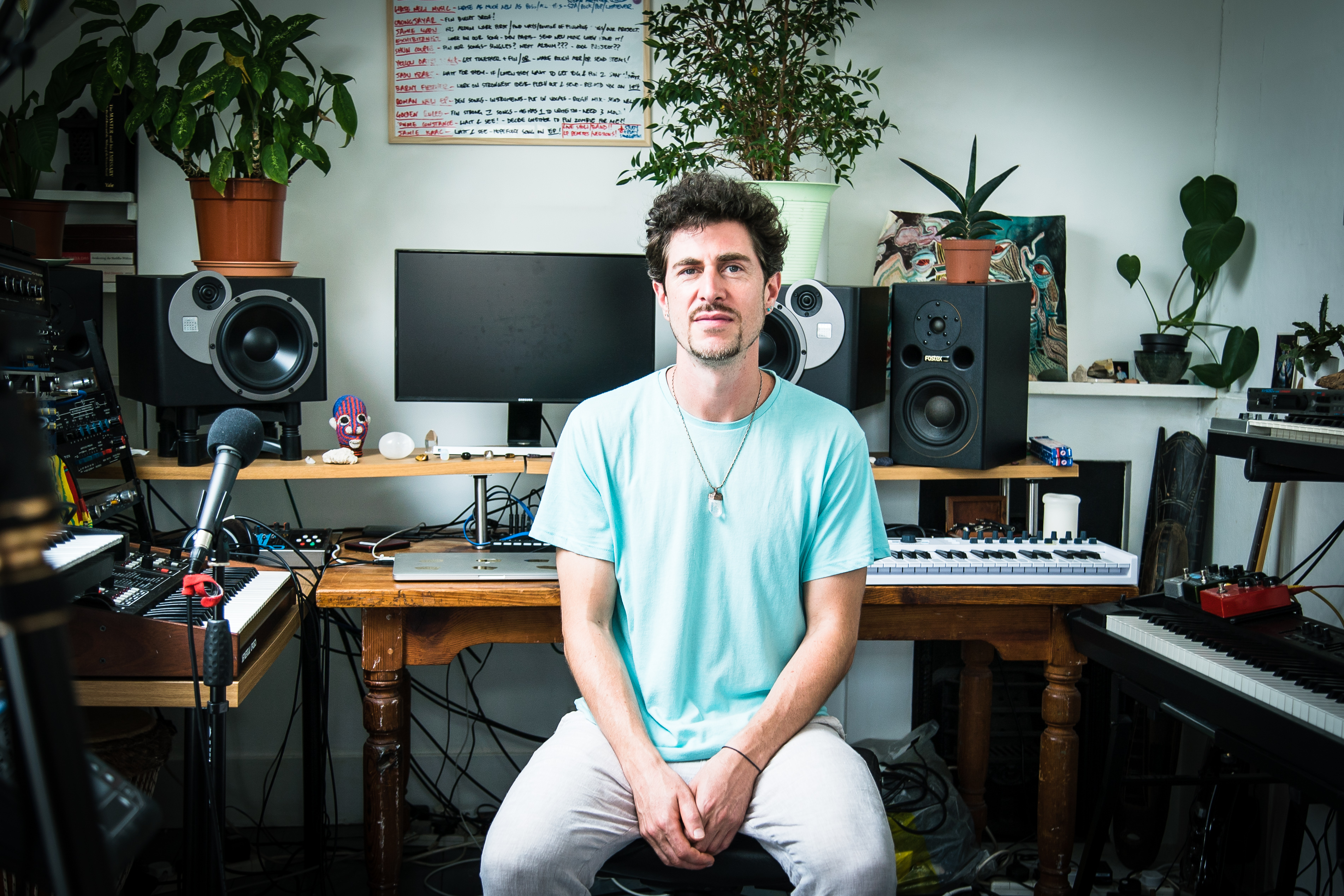 Episode 4. Paul White
At the end of June 2018, in the midst of world cup fever, I caught the overground south from Dalston Junction to visit Paul White, a producer whose work I've been a fan of for nearly a decade. First emerging as a leader of of the British beats scene of the late noughties releasing on One Handed Music alongside artists such as Bullion and Mo Kolours, Paul White's take on instrumentals often sampled the weirder, dustier corners of his considerable record collection, from 70s Polish jazz fusion through to prog rock. Since those beginning, Paul's frequently collaborated with MCs, first on his 'Rapping With Paul White' project, and later with Detroit's Danny Brown, LA's Open Mic Eagle, and as one half of Golden Rules, alongside Florida MC, Eric Biddines.
In recent years, Paul's sound has moved away from sampling as he's developed new ways of creating. Through re-learning various instruments including the piano and guitar, Paul's embraced more traditional songwriting practices, albeit with an equally broad palette of influences, as his sophomore solo album 'Rejuvenate' demonstrates.
During Paul's Sound Motives episode we discuss his journey in music from childhood influences and working with his rap heroes, through to prioritising an honest creative journey, in the face of commercial pressures to continue with the tried and tested techniques of his earlier work.
Download the podcast HERE.
You can subscribe to the Sound Motives podcast by searching for it on your favourite Podcast provider.
Tracklist
Paul White – Waves (R&S Recordings)
Paul White – All We Know (R&S Recordings)
Weather Report – Black Market (Columbia)
Ali Farka Toure – Hali (Sonafric)
John Coltrane – Africa (Impulse!)
Paul White – The Dragon Fly (One Handed Music)
Madlib – The Payback (Gotta) (Stones Throw)
Paul White – The Dragon Fly (One Handed Music)
Paul White – A Silent Cry (One Handed Music)
Paul White Ft Guilty Simpson – Trust (One Handed Music)
Paul White – Ancient Treasure Instrumental (One Handed Music)
Danny Brown Ft Freddie Gibbs – The Return (Fool's Gold)
Paul White – Sitting In Circles (R&S Records)
Paul White – Running On A Rainy Day (R&S Records)
Paul White – A Chance (R&S Records)
Paul White – Rejuvenate (R&S Records)
Paul White – The Concept of I (Bandcamp)
Laboratorium – Etiudka / Little Etude (Polskie Nagrania Muza)
Laboratorium – Przejazd / The Journey (Polskie Nagrania Muza)
Paul White – Ice Cream Man (R&S Records)
Mo Kolours – For Real (OHM / Bandcamp)
Mo Kolours – Little Brown Dog  (OHM / Bandcamp)
Paul White – Where You Gonna Go (R&S Records)
Jamie Woon – Thunder (PMR Records)
Paul White – Returning (R&S Records)
Paul White – Honey Cats (R&S Records)
Obongjayar – Adjacent Heart (Obongjayar)
Sound Sources
411VM
Growing up with ambitions to be a skateboard photographer, Paul initially discovered a lot of music through a monthly skateboarding video magazine called 411VM. Launched in 1993, 411VM profiled skateboarders from the US and across the world, with the skateboards getting to chose what music played during their sections. As the magazine reflected the breadth of global skateboard culture rather than focusing on specific cliques and scenes (as brands tended to do), the range of music was unusually broad.
411VM ceased to exist in 2004 as the impact of Napster and pirating was being felt. With the arrival of Youtube in 2005 announcing a new open-access era for video content, 411VM's model soon appeared archaic, but for over a decade, 411VM was at the heart of global skateboard culture.
Ali Farka Toure
An eclectic mix of music was always being played at home as Paul grew up, from Weather Report, to Crosby Stills & Nash, through to Bobby Womack and Malian music, Ali Farka Toure. Here's a documentary from 2002 entitled 'A Visit To Ali Farka Toure'.
The documentary A Visit to Ali Farka Toure spends time with the famous African musician, showcasing how his life now consists primarily of helping improving living conditions in Africa. Spending more and more time on humanitarian efforts at the expense of recording and touring, Ali Farka Toure shows how his passion for this work improves his music.
Stones Throw Records
After graduating from university, Paul eventually moved back to London and got a job at CM Sounds, teaching music production. At the time he was obsessed with the productions of Madlib, who released on Peanut Butter Wolf's Stones Throw Records. In 2013, the documentary 'Our Vinyl Ways A Ton' was released, chronicaling the history of the California record label from its inception. There's also a nice interview with Madlib from his 2013 Medicine Show in London.
Philosophers Alan Watts and J Krishnamurti
In the last year, I've become a freelance producer, leaving full time employment for the first time in a decade. The new- found freedom has been both a thrill and a challenge, so when Paul spoke of the excitement at having six months with no plans, allowing him to work on his album, I was curious how he approaches unstructured time, and for Paul, sometimes creativity can't be forced, and so he can spend days listening to music, as well as talks from J. Krishnamurti and Alan Watts.
Alan Watts
A prolific author and speaker, Alan Watts was one of the first to interpret Eastern wisdom for a Western audience. Born outside London in 1915, he discovered the nearby Buddhist Lodge at a young age. After moving to the United States in 1938, Alan became an Episcopal priest for a time, and then relocated to Millbrook, New York, where he wrote his pivotal book The Wisdom of Insecurity: A Message for an Age of Anxiety. In 1951 he moved to San Francisco where he began teaching Buddhist studies, and in 1956 began his popular radio show, "Way Beyond the West." By the early sixties, Alan's radio talks aired nationally and the counterculture movement adopted him as a spiritual spokesperson. He wrote and traveled regularly until his passing in 1973.
"Perhaps the foremost interpreter of Eastern disciplines for the contemporary West, Alan Watts had the rare gift of 'writing beautifully the un-writable'. Watts begins with scholarship and intellect and proceeds with art and eloquence to the frontiers of the spirit. A fascinating entry into the deepest ways of knowing."
       — LA Times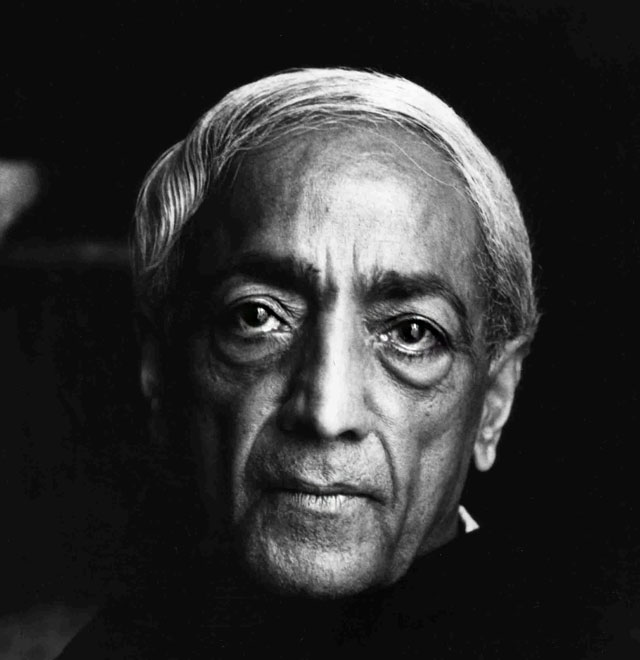 Jiddu Krishnamurti was born on 11 May 1895 in Madanapalle, a small town in south India. He and his brother were adopted in their youth by Dr Annie Besant, then president of the Theosophical Society. Dr Besant and others proclaimed that Krishnamurti was to be a world teacher whose coming the Theosophists had predicted. To prepare the world for this coming, a world-wide organization called the Order of the Star in the East was formed and the young Krishnamurti was made its head.
In 1929, however, Krishnamurti renounced the role that he was expected to play, dissolved the Order with its huge following, and returned all the money and property that had been donated for this work.
From then, for nearly sixty years until his death on 17 February 1986, he travelled throughout the world talking to large audiences and to individuals about the need for a radical change in mankind.
Mo Kolours
I've often associated Paul's musical outlook as sharing some values with the south London record label, 22a, it turns out for good reason, having been good friends with many of the collective for over 10 years. One member of the gang who Paul has greatly admired is Joe 'Mo Kolours', and over the years both producers have been encouraged and motivation by each other's work.  
Jamie Woon
Although featured  artists have long appeared on Paul's releases,earlier in his career, his creative process was a solitairy one of producing beats and sending them remotely to MCs to rap over. More recently, despite it appearing a scary prospect initially, Paul began collaborating as a producer with musicians 'in the room', and one of those early face to face collaborations was with Jamie Woon on a track entitled 'Thunder' from his 2015 LP 'Making Time'.
Paul learned a lot from these sessions with Jamie, including different ways to approach songwriting and lyrics, and the collective power of working with a team. I've also included a live performance of Jamie performing the lead single, Sharpness, from the same 'Making Time' album.
Obongjayar
A recent collaboration that Paul has enjoyed is with up and coming artist Obongjayar on the beautiful 'Adjacent Heart'.
Here's a snipett for an interesting interview he did with Pitchfork (click the photo below to view the full piece).
Growing up in Nigeria at the start of this century, Steven Umoh was hooked on American hip-hop. He had a knack for remembering Nelly and Eminem lyrics, and making up his own on the spot. He would spit rhymes for his classmates in the schoolyard and rap the gospel at his grandmother's church. That was it, he thought: I'm going to be a rapper. But not long after moving to the UK with dreams of music career, he found himself stuck with the wrong accent, feeling like a fraud. "Who am I trying to reach?" he remembers thinking. "I'm lying to the audience, because I've never even been to America—how have I got an American accent?"

At university in England, he put a band together to play a few tiny shows and soon realized that he was more of a singer than a rapper—and that the only accent he could sing in was his true Nigerian one. "It was a sign to say you should be who you are, rather than try to be something else," he says.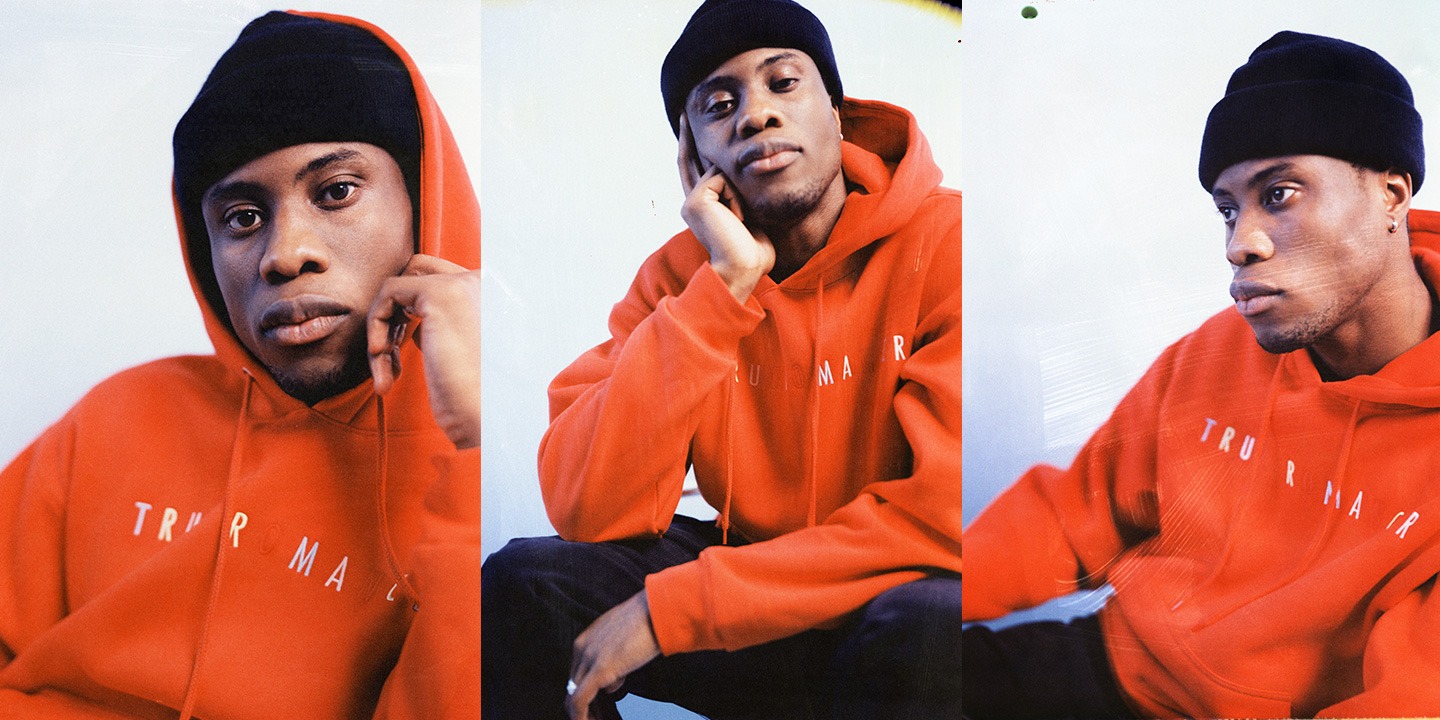 These days, the 25-year-old makes music as Obongjayar and, in conversation at least, sounds like a Londoner. He looks like one, too. Drinking lukewarm coffee on a grey afternoon in the capital, he's decked out in rail-fresh Carhartt, copped on discount from the store job he works on the side. There's no straightforward way to describe his current sound, which folds in elements of spoken word, electronic, and Afrobeat. "I've been called a soul singer," he says, sounding not entirely convinced.