We launched our second project at The Guardian Voice Lab this week!
It's a flash briefing that combined human and synthetic voice, which was a lot of fun work on. Working with SSML was a new experience for me, and although working in code was daunting initially, it's incredibly satisfying to work on something that programmatically builds itself every day.
Give it a try.
Hey Google, speak to Guardian Briefing.
For more information on the project, check Jeremy's blog announcement.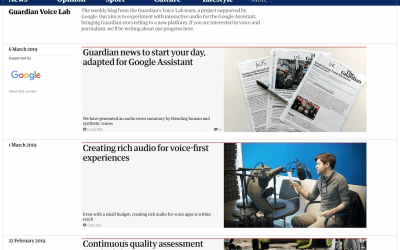 One of our responsibilities on The Voice Lab has been to write weekly blog posts about our progress. As Editorial Lead within the team, my posts have approached the meeting point that exists in voice between software developers and editorial/content creators, from the...